To order The Infinite:
                    
---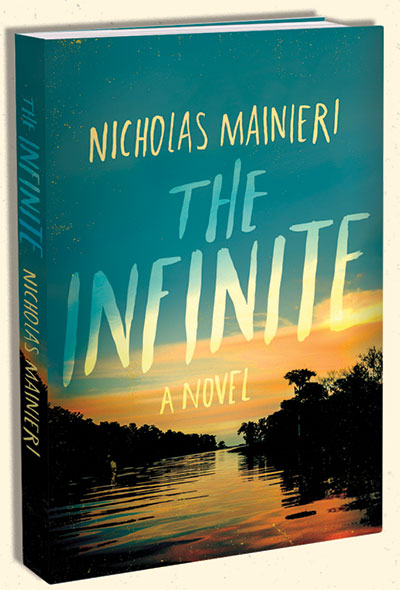 Spanning New Orleans and northeastern Mexico, The Infinite centers on a young couple and their hopes for a new future together. Luz Hidalgo immigrated to New Orleans with her undocumented father after Hurricane Katrina. Jonah McBee, with hardly any family left, exists on his own. But in each other, Jonah and Luz find refuge from the losses that define their lives. When they fall in love, it is intense, addictive, and real.
But everything changes when Luz discovers she's pregnant. Her father sends her back to Mexico to raise the baby with her grandmother. Devastated, Jonah sets off on a road trip after her. Little does he know, Luz is fighting for her life. A shocking act of violence has derailed her return, thrusting her into what seems to be an inescapable cycle of bloodshed.
A breathtaking portrait of post-Katrina New Orleans and a riveting descent into Mexico's drug war, The Infinite is an utterly unique debut novel about the borders that divide us—and the truths that unite us.
---
"Mainieri's propulsive debut is a double coming-of-age story that spans the border … Mainieri is ever sincere, eager to show how borders carve up land and families, and how the dislocated can be tempted by any semblance of human connection."

– The New York Times (read the review)

"A unique iteration of the coming-of-age story and a politically urgent read, The Infinite dares to unearth the logic that induces violence in communities internationally while challenging monolithic depictions of violence-ridden Mexico. At a delicate political moment, with unflinching honesty and grace, Mainieri concentrates on devastating stories that people on both sides of the border would perhaps rather ignore."

– The Los Angeles Review of Books (read the review & interview)

"I haven't read a debut as accomplished as Mainieri's in quite a while. When was the last time, I thought to myself, that I came across a first novel with truly beautiful sentences that gather into a stirring narrative? Where the sentence-level writing surprises and delights as much as the depth of character illuminates and propulsive plot entertains? The Infinite achieves these things and more and earned its comparisons to Cormac McCarthy and Denis Johnson, masters of story and language.

– The Washington Independent Review of Books (read the review)

"Part of the joy of reading is coming across a marvelous book by a terrific new talent. In my particular case, my personal joy has no boundaries as the result of a close encounter of a literary kind with a debut novel titled The Infinite by Nicholas Mainieri. It is sure to be hailed as an instant classic."

– Bookreporter (read the review)

"[An] engrossing debut about finding one's place in the world…Mainieri's novel is a pertinent dissection of place, class, roots, and identity."

– Publisher's Weekly (read the review)

"Mainieri presents a striking tale of two resilient and resourceful young adults as they set their sights on a tenuous future."

– Booklist

"Nick Mainieri is the real deal, and The Infinite is stunning. A compelling, brilliantly told debut, written with power and clarity."

– Philipp Meyer, New York Times bestselling author of The Son and American Rust

"The Infinite

is that rare, beautiful first novel, so contemporary and yet as timeless as first love itself. And Nick Mainieri does what great novelists do with their first great works. He creates unforgettable characters in young lovers Jonah and Luz who, both together and alone, navigate the rushing river of the borderlands that mark our two Americas.

The Infinite

is a heart song, and Nicholas Mainieri is one of our next great storytellers." 

– Joseph Boyden, Giller Prize winning author of The Orenda and Three Day Road

"First love often reveals itself to be hollow, but Jonah and Luz, Nick Mainieri's star-crossed couple, have lost too much, and have too much at stake, for their story to be anything but utterly urgent. With a sharp eye for detail and careful, generous prose, Mainieri conjures whole worlds with a few words, taking the reader on a thrilling, heartbreaking journey from post-Katrina New Orleans to the bloody front of Mexico's cartel wars. THE INFINITE is a sparkling debut, a novel that seems to guarantee you'll be hearing Mainieri's name mentioned in the same breath as contemporary masters like Denis Johnson and Cormac McCarthy."

 – Ron Currie Jr., author of Everything Matters! and Flimsy Little Plastic Miracles

"Spanning northern Mexico and the Gulf South, The Infinite is an entirely modern western, with a visceral sense of place and an ear for the small anxieties that shape our most courageous actions. In this tale of borders — national, familial, psychological — Luz and Jonah are more than just teenagers in love; haunted by their pasts and grasping for an uncertain future, they guide us through swampland, desert scrub, high school hallways, and a sicario's hideout. This is a thriller with heart, a romance on the run, and a manifesto for our increasingly tenuous landscape."

 – Katy Simpson Smith, author of The Story of Land and Sea and Free Men

"The title of Nick Mainieri's wonderful debut novel is perfectly apt. The Infinite takes the reader on a heart-pounding, heart-rending adventure through the infinite complexities of being alive in the world today. Part 

City

 of 

Refuge

, part 

Breaking

 

Bad

, this novel takes you by the hand and won't let go. I couldn't put it down, and I can't stop thinking about it since finishing. The writing is smart, beautiful, and unafraid to ask the big questions. This is fiction that stays with you and heralds the beginning of a wonderful career."

– Andrew Malan Milward, author of I Was A Revolutionary

"Nicholas Mainieri has written a profound and sensitive novel about the ways in which disasters, both natural and unnatural, can all too often make us who we are. The star-crossed love story at its heart makes The Infinite an unforgettable debut that also happens to be impossible to put down. It has all the makings of an American classic."

– Andrew Ervin, author of Burning Down George Orwell's House

"The Infinite is a surprising novel of border crossings and desperate violence, of young love and hardship, of adventure and identity, of bravery and the lack thereof. It also introduces us to one of the more complicated and capable heroines I've come across in a long time; the beautifully scrappy and haunted Luz Hidalgo, who you do not want to back into a corner. I flew through this book, half hopeful and half terrified of what was coming next. This is a powerful and propulsive read. Highly recommended."

– M.O. Walsh, New York Times bestselling author of My Sunshine Away

"The Infinite is a novel that defies easy description. A gripping, edge-of-your-seat thriller following two star-crossed young lovers set adrift—but also a lyrical, beautifully written, and affecting mediation on many of the big questions. Nick Mainieri has crafted a page-turner, yes, but these sentences, and these characters, will linger for a long, long time. A remarkable achievement."

– Skip Horack, author of The Other Joseph, The Eden Hunter, and The Southern Cross